10 Day Perth to Adelaide Adventure Tour
Boab, Bikes & Bees – Discovering Wildflowers Bike Tour Kings Park
Swan Valley Wine Tour – Half Day
Full Day Swan Valley Wine Tour
Perth Mint Live Gold Pour and Fremantle
Half Day Perth & Fremantle Highlights
Perth, Kings Park, Swan River, Fremantle and optional cruise
The Romance Package For Two
Swan Valley & Wildlife Park Tour
1 Day Pinnacles Sunset Dinner & Stargazing Tour
Perth – Arcades & Laneways
Best day trips from Perth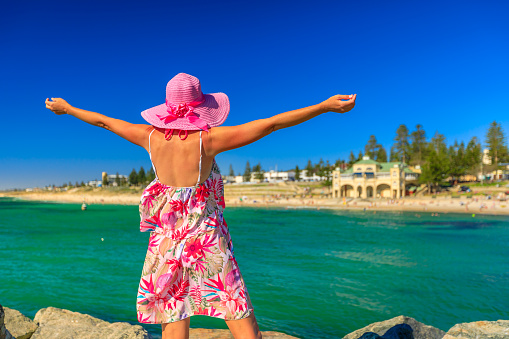 Western Australia´s capital city of Perth lies amidst many enthralling destinations in its vicinity exploring them on a day trip is a must. Whatever you fancy, the options are aplenty. Be it a cuddle with a quokka, savoring your way through wine regions or sipping some beautifully aged ale once housed in a monastery, the choice is yours. However, the difficult decision is which trip to make first. Therefore, we've have tried to make that choice stress free with our breakdown of some of the best day trips from Perth.
Wine tasting in the Swan Valley
If you are setting out from the central region of Perth, travel along the north-east route to arrive at the Swan Valley. The area is also popularly known as the oldest locality to produce wine in Western Australia. Spend some time exploring the wineries and the specialties of Shiraz, Chenin blanc, and the Petit Verdot, which are typical varieties for such a climate. The region is also home to a few breweries that produce cider and beer.
Try Avon Valley´s holy ale
A two-hour drive from Perth will bring you within reach of several interesting places, among them is the New Norcia. This Spanish influenced settlement offers just the right amount of intrigue for the curious traveler. However, the real draw is the monastery nut cake and bread cooked in an oven of a century's old monastery. Better yet, try the Abbey Ale left to age in the monastery's cellars.
Visit Rottnest Island
A ferry ride of about 80 minutes is all it takes to get to Rottnest Island, made popular owing to its adorable wallabies known as quokkas. You can also take your bike along and cycle the island's terrain or stay the night to keep watch for the cuddly nocturnal marsupials that forage towards late afternoon.
Visit the historic jetty at Busselton
Towards the south of Perth, is where travellers will find the state's longest pier made of wood. Tourists can spend the day strolling its length or opt to take the train which takes travellers to an underwater observatory.
Say hello to the Desert sculptures at the Pinnacles
Head towards the North of Perth's teal blue coast close to Cervantes to see the amazing limestone formations known as the Pinnacles. The area designated as the Pinnacle Desert is home to hundreds of pillars set amidst golden shifting sands. The best time to visit is at dusk and capture the shadows cast by the unusual limestone rock formations.
For fun head to 'Freo.'
For locals in Perth, Fremantle is fondly referred to as 'Freo' and can be accessed by traveling towards the Southern edge of Perth. This energetic waterfront hub also offers live entertainment, history, food and quality craft beers.